Polerowanie twardych lakierów
Od czasu wprowadzenia procesu lakierowania bazowego / lakieru bezbarwnego technologia lakierów bezbarwnych znacznie się rozwinęła. Najnowsze osiągnięcia obejmują lakiery szybkoschnące, które bardzo szybko wysychają i twardnieją, a także lakiery glamour i odporne na zarysowania, które zapewniają pojazdowi większy połysk i odporność na zabrudzenia. Wszystkie te przezroczyste zapewniają wyjątkowe korzyści technikowi naprawiającemu pojazd i wymagają unikalnego procesu i produktów, które pomogą usunąć niedoskonałości z końcowego wykończenia.
W Presta ściśle współpracowaliśmy z producentami powłok, aby opracować specjalne systemy polerowania, aby sprostać wymaganiom nowszych technologii lakierów bezbarwnych. Nasza pasta polerska, który świetnie sprawdza się w przypadku szybkoschnących i twardszych lakierów bezbarwnych, to ULTRA 2® STEP MAXCUT ™ COMPOUND.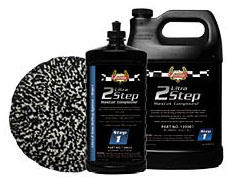 MAXCUT™ to nasza najszybsza pasta do cięcia, zaprojektowana specjalnie do usuwania rys P1500 i drobniejszych zadrapań na twardych lub szybkoschnących lakierach OEM! Funkcje MAXCUT:
Supertwarde, zmniejszające się ścierniwa, które szybko tną i dają wykończenie o wysokim połysku
Bardzo łatwo się czyści, nie pozostawia resztek pasty
Na bazie wody do szybkiego i łatwego czyszczenia
Bezpieczny w warsztacie: nie zawiera wosków, wypełniaczy ani silikonów
Zgodny z LZO
WSKAZÓWKA: Używaj z czarno-białym futrem polerskim Presta #890146 przy zalecanej prędkości 1800 obr./min, aby usunąć końcowe rysy po szlifowaniu P1500.